By GAGANDEEP GHUMAN
Published: Aug 28, 2016
ON a recent trip to Nelson, Squamish resident Hevy Duty enjoyed a wide variety of food available at food trucks in the town. "The food there is to die for—there was 10 different types of food trucks there. Healthy salads, ethnic foods, burgers…you name it. They'd be rich if they came to Squamish," he says, laughing. In Squamish, he enjoys eating at the Carte Diem food truck in Downtown Squamish and fresh eats available at Locavore food truck in Garibaldi Estates.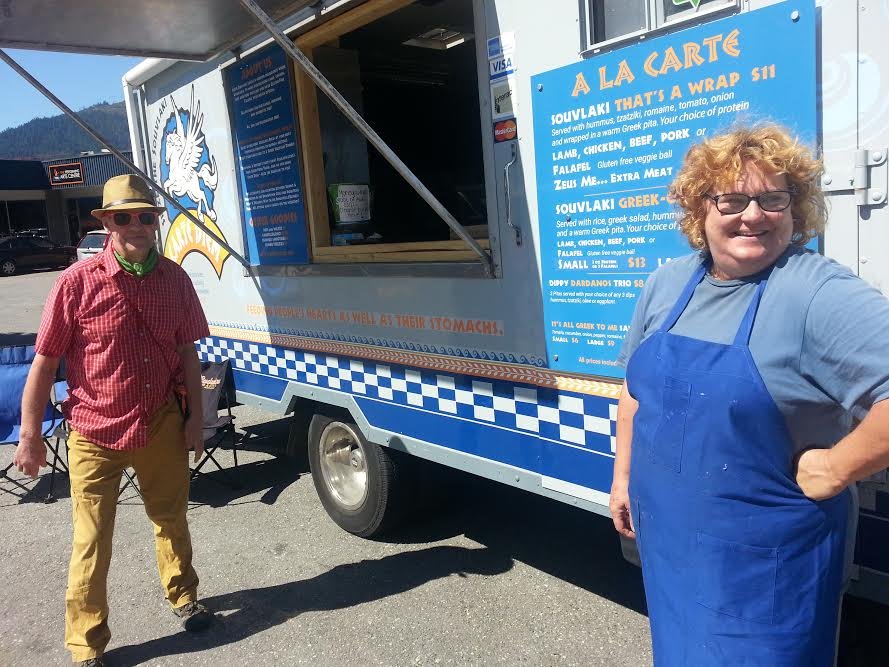 "I love the food and the ambience around food trucks. You get to enjoy food that isn't always available at local restaurant and you get to meet people there," he says. All this is music to Karen Shard, the owner of Carte Diem food truck. She currently operates out of two locations in Downtown Squamish and in business park. She started Carte Diem because she loves Greek food and there was no restaurant offering it on its menus. She also liked that it was easier to manage a food truck than a restaurant and it allowed her to move around town to serve clients where they are. She started her food truck business in 2015, and the business has been good so far, despite the rains that spoiled part of the summer in July. "People like the idea of coming out for lunch and eating Greek food, which isn't available anywhere in town. It gives them an opportunity to enjoy some good food and chat with people and friends they meet here," she says.
Recent changes to the bylaw now allow mobile food trucks to operate on district land while earlier operators such as Shard could only operate on private land. Now, operators will be allowed on district land including roads and parking spaces.  The district is inviting comments from the public on three such locations: Cleveland Ave, between Victoria and Main Street, close to Junction Park in Downtown Squamish, end of Diamond Road near  London Drugs, and on Helfand Way near Quest University. You can provide your comments by August 22. The district would like to remind, however, that this isn't a vote and one location will not necessarily be chosen over others. Food trucks are allowed to move between private properties if they have authorization from the private property owner(s), with that authorization copied to the district the property is zoned properly, for retail sales or restaurant use. Operating near London Drugs would be a good location for business, says Erin Stansa, who runs the Mountain Squeeze in Downtown Squamish along with her business partner, Ami Massey. The colourful truck, the central location in Downtown Squamish and healthy smoothies and eating options attract customers, Erin says. "We wanted to be Downtown and we lucked out with this central location but it would be great to be at other places such as in the Highlands and Quest University," she says. 
If you love food trucks and want to own one in Squamish, you now have the chance to do that. As part of its food truck project, the district is looking for a potential year-round operation at the Squamish Adventure Centre.  Services such as water and power would need to be arranged. You would need to have valid permits and licences and a $5 million commercial liability coverage with the district named as an additional insured.