Two people paid a heavy fine for flouting fire ban in the district of Squamish in the last two weeks. Squamish RCMP and Squamish Fire attended to a fire call off Valley Drive in Squamish where they found a recently extinguished fire. A male was located camping beside the fire and was issued a Wildfire Act Ticket for $1150.00.  
On the evening of September 3, several open fires were reported to the Squamish RCMP.  The first was an open fire at Anderson Beach.  The conservation service attended to the call.  The second call was for an open fire at Porteau Cove, where police issued a $1150 Wildfire ticket.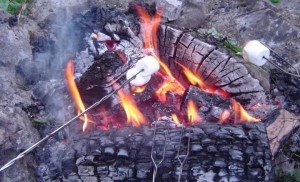 Squamish RCMP is reminding Squamish residents and visitors that there is still a fire ban in the province of British Columbia and it is crucial to abide by it. 
Where open fires are prohibited, the following activities are also prohibited:
open fires of woody debris in outdoor stoves
tiki torches, fireworks, firecrackers, sky lanterns, burning barrels or burning cages of any size or description

the use of binary exploding targets (e.g. for rifle target practice)
Enforcement officers will be patrolling areas with a history of open burn violations to issue tickets to people participating in any prohibited activity. A ticket for "lighting, fuelling or use of fire against regulations" carries a fine of $1,150 and would apply to every person in the vicinity of the fire.