A new pilot bus service will enable citizens to take a bus from Downtown Squamish to the town's main attractions such as Shannon Falls, the Stawamus Chief and the Sea to Sky Gondola.
The pilot bus service starts on Saturday, June 16, and will run seven days a week, connecting downtown Squamish to Shannon Falls, the Sea to Sky Gondola and the Stawamus Chief.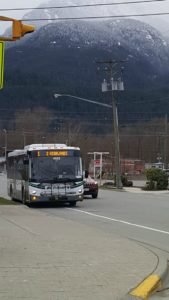 The pilot will run from June 16 to September 3. After this time, the route will be evaluated based on ridership and performance, and BC Transit will make recommendations to its local government partners regarding the future of the service.
The route 5 South Parks pilot is possible due to the addition of 1,100 new service hours to the Squamish Transit System. The new service hours will also allow for the introduction of late night service on Fridays and Saturdays, including an additional evening trip on route 2 Highlands. This trip will leave downtown at 11:35 p.m. and continue on as route 1 Brackendale at Garibaldi Village
"Linking Squamish's stunning parks and tourist attractions to public transit is wonderful news for the community and visitors to the area," said Claire Trevena, Minister of Transportation and Infrastructure.
"The introduction of this new transit route supports the District's active transportation goal of providing viable options to car travel, which leads to a variety of benefits, including reduced roadway and parking congestion—a particular challenge for our park infrastructure," said Squamish Mayor Patricia Heintzman.
"We're hopeful that the pilot will be successful and could signal the beginning of a more robust transit system that provides greater access to our parks, north and south."
Introducing transit service to the South Squamish Parks was identified as a priority within the Sea to Sky Transit Future Plan, available online at bctransit.com/squamish/transit-future.