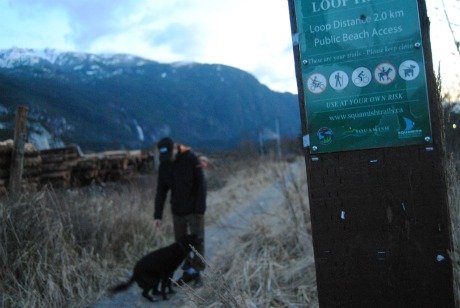 By Gagandeep Ghuman
Published: June 18, 2018
District of Squamish is turning to local citizens and asking for suggestions on four locations for off-leash dog parks in town.
The district plans to pursue public engagement for the following off leash dog locations within the District of Squamish:
Eaglewind Park (Downtown)
John Hunter Park (Valleycliffe)
Raven Drive – BC Hydro Right of Way (Brennan Park East)
Hydro ROW – Ray Peters Trail
In the fall of 2014, council directed staff to work with "Responsible Dog Owners' Groups of Squamish" (RDOGS) to explore off leash locations within the District of Squamish.
Demand for dedicated off leash locations has increased with growth in population and an increase in conflict between dogs and wildlife.

The budget for the fencings for the four off-leash areas, if all are approved, would range anywhere from $800,000 to a $1 million.
The Ray Peters Trail is the largest location and provides flexibility as to the dog park location size, which ranges from five to 20 acres. This location has been identified as a high wildlife conflict area although it is already being used as an off leash area.
This location also has the least potential impact on neighbours and access to parking, staff told the council in a report, and BC Hydro has also already approved use of this location through a licence of occupation.
The Eaglewind park site is 2.7 acres, slightly larger than the other two sites. WildsafeBC and COS advise that the potential for wildlife conflict is considered moderate, although currently there is a sow and two cubs living in the area.
District spokesperson Christina Moore said staff identified a number of issues and concerns as they explored different "large" trail areas as possibilities for off-leash dogs.
Land ownership, she said, is an obvious consideration while wildlife conflicts are another major consideration. District staff have had a number of recent meetings to try to resolve some of the challenges, she said.
Staff are seeking endorsement and approval to move forward with public engagement on all four off-leash sites.