By
By Gagandeep Ghuman
Published: July 5, 2018
'Will this village of 1200 grow?' It was over 50 years ago the Vancouver Sun posed that question about Squamish to the local municipal clerk, Hannah McCormack.
The occasion warranted the question: The year was 1951 and the PGE had been extended from Squamish to the South connection. In a special issue commemorating the launch, the paper wondered what the impact of this extension would have on this village called Squamish. "What does the future hold for this tiny Pacific Eastern Railway Main station?"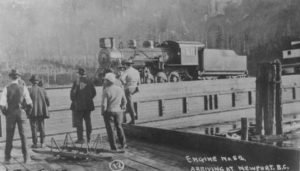 McCormack, of course, had no way to predict Squamish would become the town it's now. But her observations around real estate would resonate with a lot of locals even now.
Real estate values, McCormack tells the Sun, have been going up although she wasn't sure what impact the railway would have on the town.
"The average lots here sell for $400 to $1,000 in residential areas. On Cleveland Avenue, the main street, a 25-foot piece of frontage costs $2,500. On Hospital Hill, where a smart, four-year-old hospital sits, new homes are sprinkled overlooking Howe Sound."
And the worth of those new homes? "Some are worth $15,000, and some are worth more."
Enthused by the railway connection to North Vancouver, McCormack hoped that there will be a boom in tourism. She said if Garibaldi Park were developed with highway construction, there could be a tourism boom.
"We have only two small hotels now, we could use another one. If Garibaldi were to open up, we'd need more."
McCormack also said there was confusion in town on what the railway extension may mean for Squamish. "It's hard to say what this extension will mean to us. Some people will tell you the town will grow fast, and you will find just as many to disagree with them. I will just wait and see."