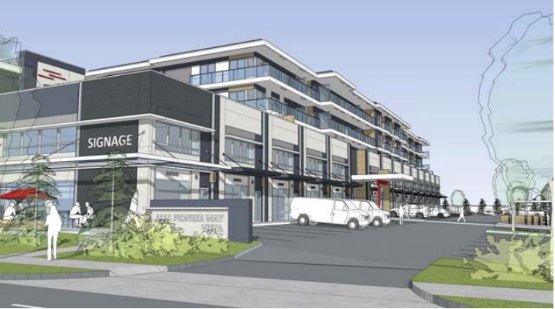 By Gagandeep Ghuman
Published: September 13, 2018
A developer is putting finishing touches to his mixed-use development application that brings 28 new industrial units and 60 live-work apartments to town.
The developer is proposing a four storey mixed-use building, which is located off Pioneer Way, in the in the northern corner of the Squamish Industrial Park, and just south of the Northyards neighbourhood.
The property was rezoned from Residential to mixed-use use last year.
The first storey consists of light industrial bays, while the upper three stories are residential apartments.
The applicant is using the density bonus given by the district and providing 30 per cent of the residential units as purpose-built rentals housing in perpetuity.
Out of the 60 apartment units being, 18 are rental units, mostly one-bedroom and ranging in size from 620 square feet to 1230 square feet.
According to the district, the west and south portions of the property are located within a secondary floodway, which limits the placement of fill in these areas. The district has approved a site specific relaxation of the Flood Construction Levels.
The developer is also proposing a landscaped pathway that would run along the east side of the property, which would connect into the new developments to the north and Government Road. A boardwalk, rain garden and extensive landscaping are also planned.
On the southern portion of the rooftop, community planters, outdoor kitchen and dining space, playground, lawn bowling and fitness wall,etc are being proposed. The developer will provide 137 parking spaces.