By Gagandeep Ghuman
Published: May 17, 2019
It has been ten years and memories are slowly fading away but Rob Henrickson can still recall the last evening he spent with his sister before she went missing.
Jodi Henrickson was to go to Bowen Island the next day and they both played video games at their home in  Brackendale.
"She had a very bubbly positive personality and I remember she was very positive that night too. She was going to Bowen Island and it was just normal conversations," he says.
Rob could not have imagined that he would never get to see his sister again.
"It's a cold case but we are still waiting for closure, for someone to come forward."
Jodi was last seen with her boyfriend in the early morning on June 19, 2009, near Miller's Landing in Bowen Island.
RCMP treated her boyfriend, Gavin Arnott,  as a person of interest in her suspicious disappearance but he wasn't charged.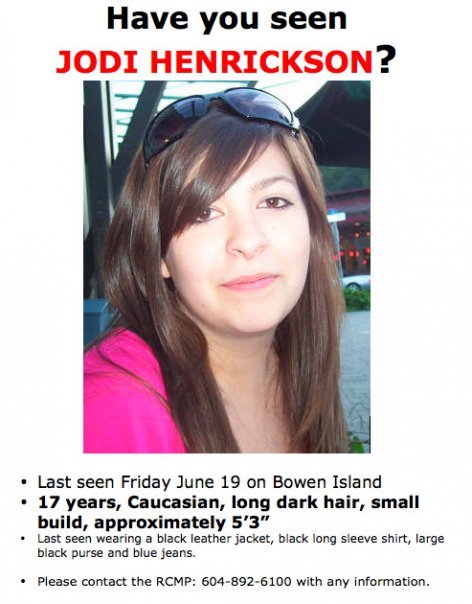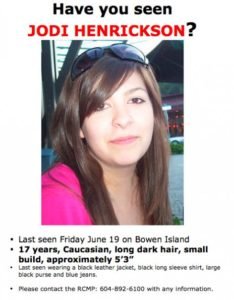 He has denied his role in her disappearance.
Arnott says he last saw Henrickson on the side of the road after a party and left her after an argument. This was the last time he ever saw her, he claims.
He admitted he had been on probation for assaulting Jodi violating a court order to not see her, but denies that he has anything to do with her disappearance.
In 2012, Arnott faced charged of sexual interference and possessing child pornography in an unrelated case.
Meanwhile, June 19 this year marks a grim milestone for the Henrickson family: A decade of searching for answers to what happened to Jodi.
"Nothing has changed since the day one of the investigation. No one has come forward. It's a cold case but we are still waiting for closure, for someone to come forward," says Rob.
Every day brings a fresh cycle of hope and despair, and there is a rarely a day Rob says his parent and the family don't think about Jodi.
"I think of my sister on a daily basis, and it is really difficult to keep going on without knowing what really happened that day," he says.
Even though it's been belied for so long, the family still tries to keep the hope alive that someone who knows what happened to her will come forward with information that will finally provide them some closure.
"Someone knows about this on Bowen Island," he said. "It's impossible for someone to simply vanish."
If you have any information, call the Squamish RCMP at 604-892-6100 or contact Crime Stoppers to leave an anonymous tip at 1-800-222-8477.