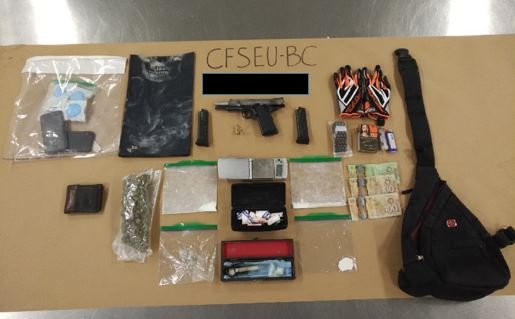 Squamish RCMP and a gang enforcement team found a loaded handgun and drugs from a local man during a traffic stop in Downtown Squamish.
On April 3rd, Squamish RCMP and the Combined Forces Special Enforcement Unit – Uniformed Gang Enforcement Team (CFSEU-UGET), stopped a vehicle on Cleveland Avenue at Winnipeg Street.
They detained the driver for impaired driving, and his search yielded a loaded handgun and drugs.
A 32-year-old Squamish resident was arrested and later released to appear in North Vancouver court on firearms related offences.
The driver, a 45-year-old Squamish man, was served a three-day immediate roadside prohibition and his vehicle was impounded.
He was taken into custody and later released on an appearance notice for firearms related offences.
Squamish RCMP, the Sea to Sky General Investigation Section, and CFSEU-UGET continue to work together on this investigation and will be seeking possible additional charges.
"The partnership between the RCMP and CFSEU extends across the province and we are thankful for the proactive enforcement of the UGET teams in Squamish and the Sea to Sky area," said Sergeant Sascha Banks.
Anyone with more information can contact the Squamish RCMP at 604-892-6100, or Crimestoppers at 1-800-222-TIPS, or go to the website www.solvecrime.ca