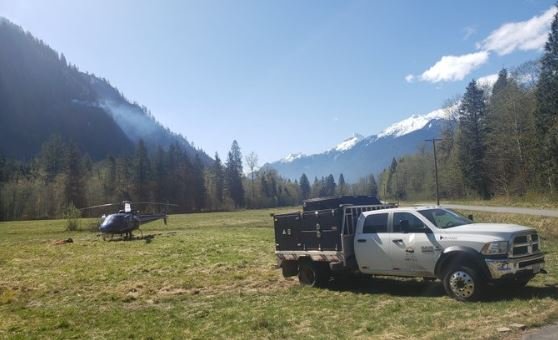 The Squamish Valley fire is now 50 per cent contained, according to an update by BC Wildfire Service.
"The Magee Road fire has not moved beyond the current perimeter. Crews are now working from hot spot to hot spot, as identified by thermal scan and continuing to build helicopter access and water delivery on slope," the service said an update posted at 4:09 pm on April 18.
Officially, the status of the fire remains as 'Out of Control', which means a wildfire that isn't responding, or responding on a limited basis, to suppression in a way that the perimeter spread is not being contained.
As many as 38 firefighters, two helicopters, and three heavy equipment units are fighting the 203-hectare fire.
Meanwhile, Squamish RCMP are renewing appeals to people to avoid the area.
"We have said this multiple times and it remains the same. Paradise Valley and Squamish Valley is CLOSED!," the Squamish RCMP said in a tweet.