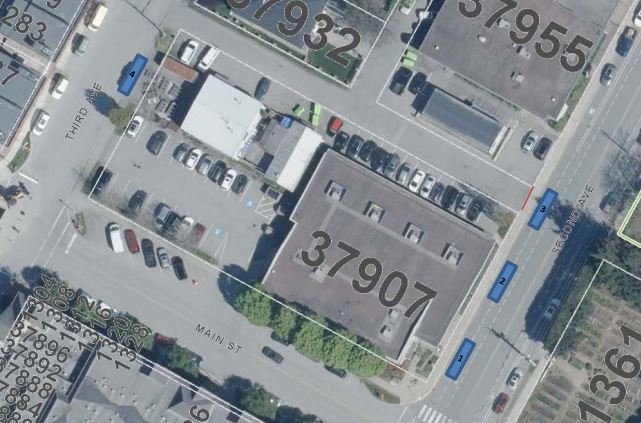 District of Squamish will move the transit exchange at the Chieftain Centre to the library because it conflicts with a new bike path being planned on Pemberton Avenue.
The transit exchange will be moved on June 15 when the new transit riders guide comes into effect.
This bike path is planned for the north side of Pemberton Avenue in order to connect with the future bike path on the east side of the Pemberton Bridge.
The width and configuration of the road right of way makes it quite challenging to fit in both the bike path and the transit exchange, district says.
With BC Transit against the overlap, district has decided that the best location for the exchange is in front of the library on Second Avenue.
"The library is on the existing downtown transit loop, and can already accommodate two buses without losing street parking. Staff are planning to close off the entrance to the Municipal Hall staff parking lot from Second Avenue, and replace the letdown with sidewalk, in order to accommodate a third bus without losing any street parking," according to a staff report.
The staff parking lot will continue to be accessible from Third Avenue or Victoria Street.
Meanwhile, the fourth bus layover location will be provided on Third Ave near Main Street. Washrooms will be available for the bus drivers either in Municipal Hall or the library (once reopened) during regular hours and a portable toilet will be provided for after hours.
An existing bench and covered area are already in place for those waiting for buses, and staff are exploring options to build an additional shelter.
The current transit exchange on Pemberton Avenue would continue to have a bus stop for passengers wishing to access the Chieftain Centre mall, district says.
District says it anticipates two challenges with moving the exchange: Passengers will lose convenient access to commercial areas while waiting for the bus, and the fare collection becomes complicated.
District says it has discussed this with drivers, and one solution is to allow all passengers to get on the bus at the Pemberton location without providing fares.
They will pay when they board the correct bus at the library exchange.  In some cases, they may be able to stay on the bus, but just provide their fares to the driver at the library exchange, the report adds.
However, the library exchange won't be the permanent transit exchange.
District is working on a downtown multi-modal hub, which will eventually replace the Library exchange, but hasn't given any timelines on when it might happen.