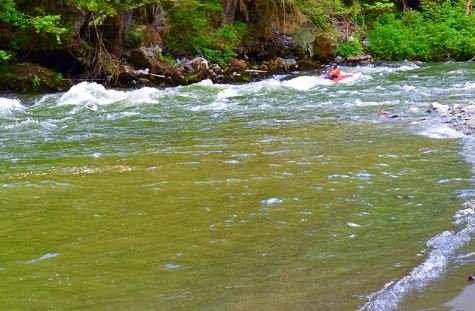 UPDATE: Whistler RCMP has confirmed that a kayaker who went missing in Cheakamus River was found dead. His body was found several kilometres from where he was last seen.
"The recovery of the male was extremely challenging due to his location and the condition of the river at the time, " Whistler RCMP said.
Whistler RCMP is expessing thanks to all of the friends and kayaking community, RCMP Air Services, Whistler SAR, Whistler Fire Service and off duties members of the SAR communities who assisted in the safe recovery of the man's body.
—
All efforts to locate a man whose kayak overturned in the Cheakamus River in Whistler have been unsuccessful so far.
On June 21, at approximately 6:15 pm, Whistler RCMP received a report that a kayaker had overturned in the Cheakamus River close to MacLaurin's Crossing Suspension Bridge.
He was kayaking with his friends when the incident happened.
Whistler RCMP, Whistler Search and Rescue, Whistler Fire Rescue Swift Water Team and friends of the kayaker immediately began a search.
At 9:30 pm yesterday, the search was called off and it resumed today at dawn with a helicopter, and with help from police and other agencies.
His kayak was discovered today several kilometers downstream from where he was reported missing. It was trapped in a log jam.
The river in the search area is currently running very high and fast which has made search difficult and extremely dangerous, Whistler RCMP said.
Whistler RCMP said it will not be disclosing information on the missing man at this time.