​Four Squamish entrepreneurs are working together to open Fox and Oak, a coffee and doughnut shop in Downtown Squamish.
Luke Roderick, Tessa Roderick, Chris Van Dyck and Brittany Van Dyck are hoping to open the coffee and doughnut shop in the fall at 1396 Main Street.
The shop is located in the new building on Cleveland Avenue and Main, besides the Howe Sound Brew Pub.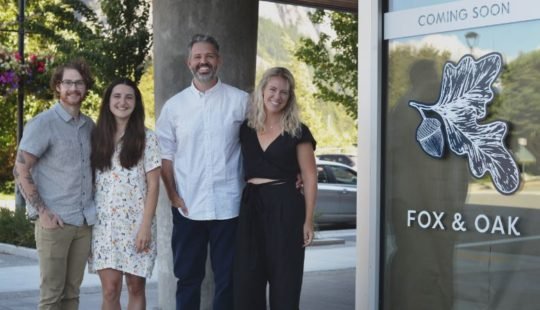 The name Fox and Oak comes from the nicknames of two of the founders, Luke and Tessa. In fact, Luke moved to Squamish with one of his best friends to reopen The Ledge Community Coffee House in 2016.
"We have a lot of exciting ideas planned. Values are really important to us and we're so excited to share these through our premium products and how we plan to do community," Luke says.
Fox and Oak will have a variety of naturally leavened brioche doughnuts that will be on a rotating menu, including vegan and gluten-free options.
The coffee selection will include lattes, cappuccinos, loose leaf teas and v60 pour overs. The new shop will be a multi-roaster, meaning there will be a new coffee for the community to try every few months.
"While we know it is not ideal to open a business during a pandemic, we are excited to be a part of this community, serving and doing what we know best," Luke says.