On a three-acre lot tucked away on Valley Drive, a dream that Ted Tempany nurtured for over 20 years has finally taken shape in dirt and tar.
The Valleycliffe Jump Park is a collaboration between the District of Squamish, SORCA and Ted's company, Dream Wizards.
Ted spent the last four years working alongside Ron Goldstone and other volunteers to create a jump park for local teens and youth.
"This is something I have wanted for 20 years, and this is a huge step forward for us," he says.
"I love building jumps, and this was all about what we can do to create a place for kids and youth in our community."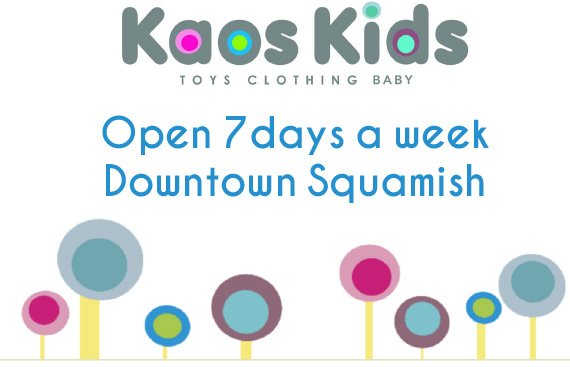 Built on district land with SORCA as the lease holder, the jump park opened unofficially this summer, and was enabled by taking clean material from local developments through CVC and a $25,000 grant from Whistler Blackcomb Foundation.
The park has jumps for beginners, for those at the intermediate level, and for more advanced, professional riders.
For kids just starting off, there is a pump track with rollers, dibs and small jumps. Ted says he often sees kids as young as three year old in the park, along with those who want to train as professional dirt jumpers.
"There is a lot of very talented dirt jump riders that didn't have a spot to train in Squamish, and it's important for us to support the talent in this community," Ted says.
A polite, unassuming man, Ted has donated thousands of volunteer hours and his company Dream Wizards has donated heavy equipment and crew to build and maintain local trails including the iconic Half-Nelson and Full Nelson mountain biking trails for the last twenty years.
He brought the same passion to the Valleycliffe jump rack, roping in volunteers from Squamish and even New Zealand,  where his company, Dream Wizards, has won contracts to build trails.
"I was going back and forth to New Zealand and my crew from Christchurch came and gave me hand with the pump track. A lot of very skilled people volunteered their time to build this jump park for our community," he says.
He was also supported by local companies like Coast Valley Contracting, who donated dirt, which was used to raise, level and shape the park.
Ted even bought a 14-tonne excavator to help shape the massive amounts of dirt.
"I spent a lot of money on that excavator, but it was super crucial for this," he says.
He plans to sell it, but is using it for now to build practice BMX track for local athletes like Teigen Pascual.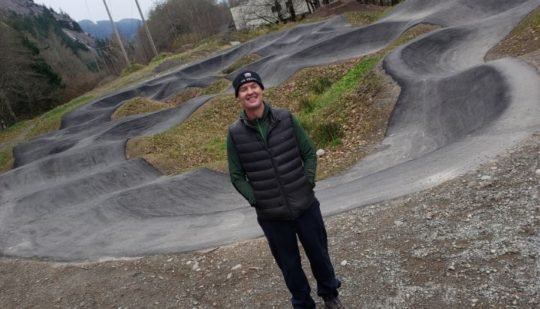 "It's a bit of my charity machine, and it has helped me do a lot of good things in town," he says with a smile.
After securing the dirt from CVC, Ted worked with Squamish Trails Society to secure $25,000 funding from Whistler Blackcomb Foundation to pave the pump track.
Ted and Ron Goldstone then worked with DOS staff to bury a water line from the Valleycliffe fire hall to the pump track.
To get it finally ready took a bit longer than was thought, says Ron Goldstone.
"I don't think people realize how much we had raised the grade to keep out of the floodplain, and that took a lot longer, but it is a great product at the end. I think that the soil is worth $100,000 if we had to buy it, and Ted donated another $100,000 in machines and labour. Whistler Blackcomb donated $25,000 for the pavement and a lot of others have chipped in along the way," Ron says.
Come spring, Ted Tempany, Ron Goldstone and other local volunteers will be at the Valleycliffe Jump Park to tune up the jumps as more kids, teenagers and adults come to ride as weather improves.
"I feel very grateful that I am able to help our kids and youth, and I am committed to keep this park in tip-top shape," Ted says, smiling.