Squamish First will pause development to allow our community amenities and services to catch up with growth, the group announced today.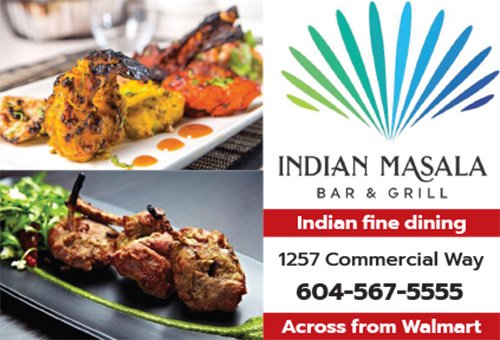 "On day one, Squamish First will introduce a motion to pause the planning process to densify the Garibaldi Estates. The neighborhood has spoken loud and clear – they want to protect the heritage of their neighborhood and the Squamish They Love. We are listening and we will act on day one," said Mayoral candidate Mike Young.
Squamish First will take a common-sense approach to solving issues in our town. This practical approach will meaningfully impact the way we pursue development in Squamish, the group said in a press statement.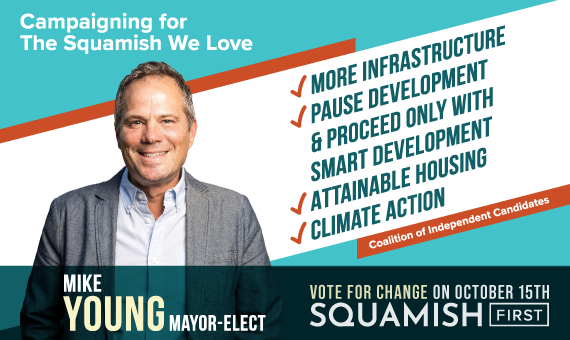 "We will also bring forward a motion to place a temporary freeze on development in Downtown Squamish until council creates a land use plan that protects our landscape views, heritage, and allows for infrastructure to catch up with our growth, such as a second downtown entrance. This temporary freeze will be similar to the one implemented in Vancouver, along the Broadway Corridor. Rezoning applications will be put on hold, except for certain kinds of developments which we will fast track, such as affordable housing and attainable purpose built rental housing" said Council Candidate Rajan Hans.
The group said over the years, the mayor and council have approved high rises in Downtown Squamish without any vision to deal with the explosive growth.
"Squamish First will introduce Smart development guidelines that will ensure that any new developments that occurs creates connected communities, is connected to active transportation, schools, childcare, attainable and equitable housing, sufficient road networks with a district wide traffic plan, no more parking variances and developers paying their fair share," said Young.
Council Candidate Adrien Byrne said too much development has occurred, but not enough community amenities have been secured from developers to support the exponential growth.  "It's time to prioritize investing in the infrastructure and community amenities so that Squamish can break away from being a bedroom community, to a community where families can live, work, and play," he said.
Squamish First strongly believes that development projects should place community first, not developer interests and that there should be meaningful dialogue with communities before developers come to council with an application.  Pausing development and proceeding only with Smart Development is one of the three pillars of Squamish First's platform. Over the coming weeks, more details on the last pillar, "Attainable Housing" will be released by Mayoral candidate Mike Young and Rajan Hans and Adrien Byrne.