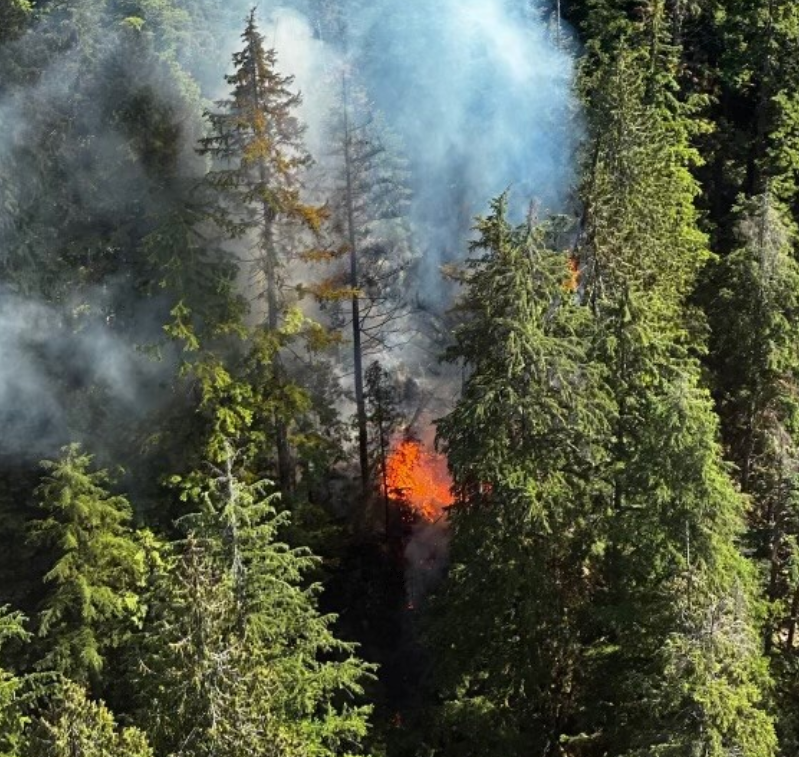 The aerial response to the fire burning in the Lowe Seymour Conservation Reserve on Mt. Seymour in North Vancouver has been effective at reducing its intensity, according to an update by Metro Vancouver.
However, smoke is still visible across the North Shore and Metro Vancouver, though it's thinning. Homes are not in danger and fire is estimated to be two kilomteres away from homes. BC Wildfire and Metro Vancouver firefighting activities continue with District of North Vancouver Fire and Rescue Services ready to deploy more crews as needed.
The fire was first reported around 4:16 pm, and even though it's still classified as out of control, Metro Vancouver officials are confidence the fire won't spread.  A Metro Vancouver official, Brant Arnold-Smith, said based on the fire behaviour, it's likely the fire won't spread. As many 15 firefighters will also be hiking to the location of the  brush fire, try to stamp out the fire and monitor it overnight.
BC Wildfire Service crews earlier responding to the fire with helicopter support, air tankers and other resources. The cause of the fire is not clear.
"BC Wildfire service Wildfire investigations often take time and can be very complex. Investigations may be carried out by one or more agencies, including the BC Wildfire Service, the Compliance and Enforcement Branch, the RCMP, or other law enforcement agencies, and may be cross jurisdictional," says BC Wildfire.