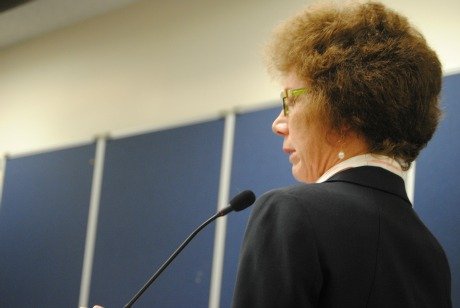 By Gagandeep Ghuman
Published: Nov. 21, 2012
Squamish citizens voiced strong support for a CIBC and Tim Hortons on Garibaldi Way in a public hearing at the council chamber on Tuesday, Nov. 20.
Opposition and concern over increased traffic, too, were raised, but they paled in comparison to the support the project received from those who saw it as a harbinger of economic development.
Ostensibly, the public hearing was only for a rezoning to allow for a bank.
But the subtext was clear: Squamish needs jobs and economic development, and a drive-through and increased traffic is merely a small price to pay for it.
Former Councillor Corinne Lonsdale was one of those who supported the project.
She said Garibaldi Highlands and Downtown Squamish were always supposed to be two commercial nodes in the town. She said there are four banks in downtown Squamish, and the proposed location for a bank should be supported.
"The jobs are family supporting jobs with benefits and pensions," Lonsdale said.
"We need those jobs, and all jobs are good. I look forward to more jobs on the other side of the development as well."
Dean Terry, the owner of Tim Hortons, said even though Tim Hortons might be a big corporate chain, it's owned and operated by small businesses owners like him.
"As a small businesses owner, we live and shop here and we always try to give back to the community," he said.
"We have given tens of thousands of dollars to Squamish Minor Hockey, Big Brothers and Big Sisters and other community fundraisers."
He also said the second Tim Hortons will take the pressure off the existing one.
Local resident Dean Smith said the opposition rhetoric seems to be about preventing new businesses to protect existing businesses.
"I find that quite disturbing," he said.
He hopes the council would listen to the large majority of those who support this project.
"The job of the council is to help set up new businesses, not try to create road block for them," he said.
Similar were the view of Chris Rommell who said a majority of people in town supported the project.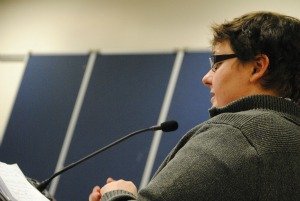 Brackendale resident Carole Bird, however, isn't one of them.
"I believe it does not reflect the goals and the values of the OCP Downtown First section, nor the 2000 plan, which calls for avoiding strip development," she said.
"I'm opposing the location, and nothing else, there are plenty of excellent locations downtown for this."
She also said the community would benefit from small commercial businesses on the large lot.
"I hope the council does not support this bylaw."
Speaking on the behalf of Downtown Squamish Business Improvement Association (DSBIA), Colleen Myers said financial institutions should be located in downtown.
"They belong to downtown and not on the Highway halfway to Whistler."
Marnie Lett and Stephane Perron also voiced their concerns regarding the project.
Squamish Trails Society president Bob Brant raised traffic concerns, particularly the stacking of vehicles on Government Road.
The proponents are recommending a three-way stop at Garibaldi Way and Government Road, along with a left-hand turn off Garibaldi Way, and right-hand lane off Garibaldi Way.
Traffic consultant for the proponent, Sarah Allen, said the improvements will make the intersection safer.
Doug Day, Derek Cranfield, Ann Marie McKenzie, Denise Imbeau were others who spoke in favour of the project.