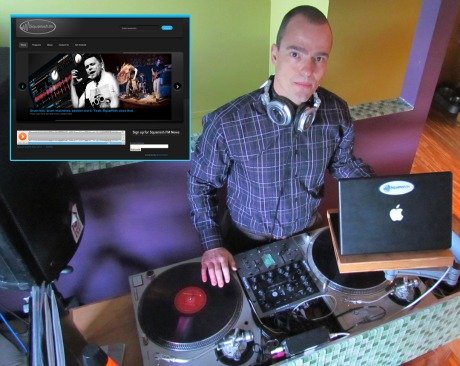 By Emma Taylor
Published: Feb.9, 2013
While Squamish's financial co-ops may be well-known, Squamish is also home to a collection of smaller, 'grass roots' businesses.
Co-op businesses are owned and run by their members, but they not profit-driven.
The idea rather is to meet a common needs or goals to serve the community.
The Grandwall Bouldering Cooperative is one such example. Opened in 2008 by Tyson Braun and Jeremy Smith, it's a community built, volunteer, not for profit run bouldering co-op.
It operates like all co-ops, on a member only basis, providing a much needed facility for local climbers.
Two more businesses became co-ops last year.
The most recent was the Squamish Media Co-op, operating as Squamish Free Media.
It became a co-op last October, and operates as online meeting point for local views, music, art and culture, offering audio training and featuring online broadcasting.
On Canada Day last year, members programmed the stage downtown and featured several local musicians, dancers and DJ's.
"People can learn how to produce a radio program, interview people, create sites, blogs and more," says founding member Craig Davidiuk. 
It's all about enabling people to use media tools and in turn share local stories, voices and culture."
Membership is $30, and members so far have included DJ's who post mixes, people learning how to produce a music or talk show, and volunteers.
Davidiuk emphasised that this is a project for the community, by the community.
"We rely on our members and the community to participate, produce content and move the project forward," he said.
British Columbia has a thriving co-op movement, with total membership in the province exceeding two million. Co-ops are mostly community or regionally based with an investment in or surplus from staying in the local area.
The Yoga Studio on Second Avenue opened in March 2009 and converted to a co-op model in July 2012.
"The co-op model is a more financially reliable way of keeping a small business running, "said Sarah Manwaring-Jones.
"There is shared responsibility for the space with the potential to reach a greater population."
It is working well for the studio so far, with word of the facility spreading and a variety of classes and events on offer from drumming circles to dance.
Facilitators pay $20 per hour to use the space, which is fondly known as 'the yellow room.'
"This space is here for the community and we are excited to support community initiatives and new programs," she said.