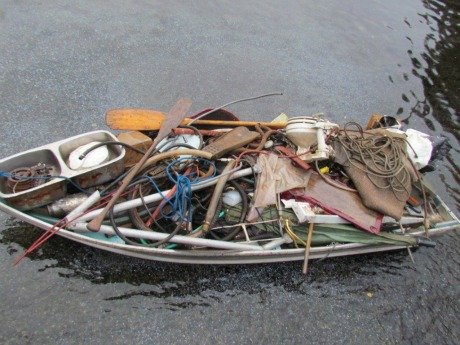 By Gagandeep Ghuman
Published: Feb. 16, 2012
He found ropes and meshes, blankets and utensils, metal and cardboard, paint products, anti-freeze, and small containers of paint and thinners.
On Monday, Feb.11, John Buchanan hauled a nauseating buffet of garbage from a yet another abandoned ship in the Howe Sound waters.
Our local conservationist first spotted El Nino, a 15-metre wooden-hulled fishing boat, in January near Anvil Island, closer to Porteau Cove.
The vessel later drifted to Lions Bay, where someone has now tethered it to the shore.
The boat is registered in Prince Rupert, but its status is suspended, and the owner is not listed.
The half-sunk boat remains at Lions Bay, its festering contents seeping slowly into Howe Sound waters.
Buchanan said the El Nino had been leaking out fuel for over a month.
He said the process seems to have stopped now, but the damage is done.
Sadly, the depressing sight of derelict ships is becoming common in B.C. waters.
This isn't the first time Buchanan has marshaled his meager resources to collect a giddying array of flotsam and jetsam.
He was out on the waters in 2011 when the ex-coast guard ship Ready sank in the Howe Sound waters.
The derelict ship, which was moored in Britannia Beach, sank in Jan 2011, leaking six litres of fuel in the waters.
In 2008, a tug boat named La Lumiere sank at Britannia Beach, spilling 500 litres of diesel fuel into Howe Sound.
At that time, Buchanan located a 45-gallon drum of fuel half a kilometer off the coast. He dragged it back and handed it over to the Coast Guard.
When the Ready sank in 2011, Buchanan found prescription drugs, two-ship rockets and flares, just to name a few.
"Some of the items I recovered from the Ready, they could have harmed someone had they found it and handled the items in an improper manner," he said.
Buchanan has pressed the province to raise the Ready from the Howe Sound watrs, but nothing has happened so far.
Underlapping bureaucratic jurisdictions often lead to buck-passing by different government bodies on derelict ships.
Federal marine authorities can only take charge when there is a threat to navigation or the environment.
The province can take matters in their hands if the matter is restricted to Crown-owned, foreshore land.
Municipalities can petition the province and the feds, or they can be proactive and set up Harbour commissions to monitor boats.
There has been a talk of setting up a Squamish Harbour Commission, but it has been limited to just talk.
There is no inventory of derelict or abandoned boats in the province, although Transport Canada is said to be working on one.
Its final report was expected to be complete last summer.
Some unofficial estimates, however, have put the number of derelict ships at 200.
Buchanan, meanwhile, said the province must create and enforce a salvage response plan.
"How do we expect to handle all of the garbage heading our way from Japan if we can't even handle our own stuff?" he said.
As for the garbage, Buchanan tries to reuse some material, send some to the areas that receive hazardous material, and the rest goes to the landfill.
Here's a video of John hauling garbage from the El Nino.