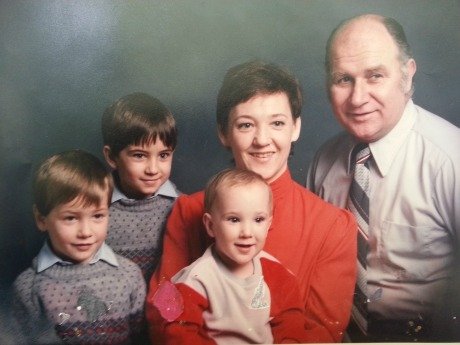 By Gagandeep Ghuman
Published: March. 16, 2013
Tall as the truth was who; and
wore his
… life
like a …
sky
E.E Cummings
—
Karyn Smith opened the door and there he was—her blind date, Les Smith.
It was 1973 and Les wore stove pipe pants that went out with the arc. Ear muffs dangled from his hat and in his hand, he held a Japanese umbrella, a souvenir from a recent visit.
Karyn laughed, invited him in, and asked if he would like to have some tea.
Yes please, he said, two sugars, stirred three times, anti-clock wise.
Then, he asked her out to the movies.
"Les was funny, funny, funny," Karyn said, recalling the day she first met the man who she was married to for 38 years.
"I thought I'd give him a chance."
As for Les, he was funny and irreverent, and he never lost touch with anyone that touched him.
"I never get rid of anything,' he told Karyn often, and 'I'd never get rid of you."
He let go of this world at age 72 on Jan. 18, 2013, surrounded by his family and friend Rosemary Alexander,  the one who had arranged the blind date.
He is survived by his wife Karyn, sons Dallas, Brad, Cody, sisters, Norma (Harold), Marion (John), sister-in-law Pam and numerous in-laws, aunts, uncles, cousins, nieces and nephews both in Canada and Australia.
Les loved to keep things for sentimental value.
Hanging from a wall in his Brackendale house are more than 30 car decals he kept from his first job as a delivery person for auctioned cars.
There in the living room is the 80-year-old hammer he and his father used to build fences at their home in Australia.
He kept every magazine he ever bought or subscribed to, every photo he took, every program guide for movie or opera he attended.
He kept his original fire hat from the time he was a firefighter in Ocean Falls.
Red was his favorite colour and 500 people wore it at his funeral. He enjoyed sea food, entertaining friends at home and barbequing at the Squamish Yacht Club.
Weekend trips on his boat fueled his life.
He disliked confrontations, or people who yelled.
Les was born on June 25, 1940, in Muswellbrook, New South Wales, Australia, the eldest of four children.
His father, Harry Smith, worked in the coal mines, while his mother, Muriel, was a home maker.
His friends called him Smithy.
"Everyone knew Smithy," says his friend Brian Styman.
Styman said Les loved to buy clothes, and he was 'so brave' that he bought and wore the first pair of red trousers ever seen in town.
"I used to follow about three paces behind in my navy blues," Styman says.
Smithy's adventurous spirit took him to England, where he was a tour guide, and later owned a dry cleaning business.
He often claimed he could 'charm the ladies right out of their skirts at the door.'
Les then moved to Canada, where he worked in a wide array of jobs, as a pipefitter at Ocean Falls near Bella Coola, a fire chief, probation officer, an emergency coordinator, and then again as a pipe fitter for B.C Rail.
Alongside, he found enough time to join community groups such as the Yacht Club and the Harbour Authority.
Les loved boats, and was the proud owner of several boats, the last one called Bombora. He looked forward to weekend boating trips.
Once, after winning a house in a lottery in Australia, the family was deciding where to invest the money when Les spoke.
"Let's buy a boat, we need to buy one," he said.
Not many people could boast of seeing 80 of the 100 Wonders of the World, meeting Muhammad Ali, hunting grizzlies, skydiving (over 3,000 jumps), scuba diving and being revived after having two separate cardiac arrests. 
Les was a big man who sported a neat handlebar moustache.
He started growing his beard in the fall.
By the time Christmas came, he would be flooded with calls from people asking him to become Santa. He happily obliged, patiently lending magic to the little ones in Squamish.
In jest and in seriousness, this is what Les always said.
"Life is for the living, so let's get on with it…"