By Gagandeep Ghuman
Published: May 18, 2013
Abrupt enforcement of a building code has left a local home builder with delays, $2,000 in unexpected bills, and a broken faith in the district's ability to help local businesses succeed in a tough economy.
Shane Buschy, the owner of Blue Whale Construction, says the district building inspector sprung a new code in the middle of home construction on Wilson Crescent.
The enforcement was more troublesome because Blue Whale had just completed a similar construction a few weeks ago without any mention of this code.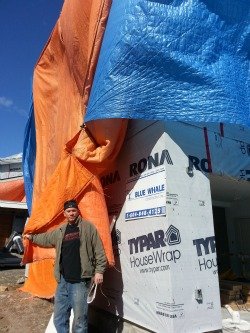 Previously, a home builder would wrap the Typar and start with vapour barrier and home insulation.
The siding came later.
This is how Blue Whale had done homes before, all happily stamped by the building inspector.
But now, the Typar was simply not sufficient; the siding had to be done before work could start on insulation.
When told about this change, Buschy says his first reaction was one of plain confusion.
"I just looked at him and said 'since when has this ever been an issue before.'"
The building inspector's response: "You will have to do it."
Even if it meant the people working on insulation had to be stopped, even if it meant finding people willing to do siding on a short notice.
But then after some back and forth, the building inspector gave some ground.
The insulation work could be carried on, but a tarp had to cover the entire house.
Harried and unwilling to further delay construction, Buschy spent $2,000 to cover the house with a tarp that is eventually headed to the landfill.
"It's the most ridiculous thing I have been asked to do," he said.
District spokesperson Christina Moore said the rule isn't a new part of the building code.
She noted, however, that enforcement of this clause is becoming a higher priority for municipalities to ensure prevention of moisture damage.
"The BC Building Code is a provincial regulation that all builders are expected to be familiar with and adhere to," she noted.
Meanwhile, Buschy says this code isn't an issue in other parts of the province.
The latest episode has forced him to consider moving from Squamish.
"I have honestly thought about relocating to West Vancouver or Whistler where things go much more smoothly."