By Rachel Boguski
Published: Aug 11, 2013
It was a scene of flower crowns, neon glasses, short shorts and sun-kissed shoulders as music lovers of all ages poured into the Logger Sports Grounds for the fourth edition of the Squamish Valley Music Festival.
If you weren't among the estimated 17,000 festival-goers this weekend, here's some of what you missed. 
With a diverse mix of devoted fans, young families, body-painted teens and hard-core groupies, the crowd at the festival was for the most part mellow.
The festival lineup included nearly 50 musicians ranging in genre from rock to hip-hop to folk to electronic.
But, one thing the performers did have in common was their appreciation for the majestic mountain backdrop Squamish had to offer. 
Day one saw Vancouver's Juno Award-Winning indie rockers and festival alumni Said the Whale return to the stage to play a few new singles from their upcoming album hawaiii as well as older tracks including 2009's "Emerald Lake, AB" which left the crowd appropriately singing "What a fine life we are living." 
"I've been waiting a long time to play this show," confessed Vancouver's Dan Mangan, who kicked off a solid set with "Road Regret" for his only hometown performance of the year.
Stripping the stage of his band, Mangan treated fans to a clearly emotional "Basket" which he dedicated to his grandfather.
Also in for a treat were two robot-clad fans who traded places on stage with a crowd-surfing Mangan for his 2009 hit "Robots".
Inarguably drawing the largest crowd on Friday was Seattle rapper Mackelmore who entertained them all with an animated tale of arriving in Squamish, stumbling upon a lake, removing his clothing and having it stolen which eventually saw him hitching a ride to, you guessed it, the "Thrift Shop". 
As darkness fell, New York City's Vampire Weekend were greeted by a more subdued audience as they took to the stage for a stellar set, playing obvious hits "White Sky" and "Cape Cod Kwassa Kwassa" plus new tracks from their third album Modern Vampires of the City released in May.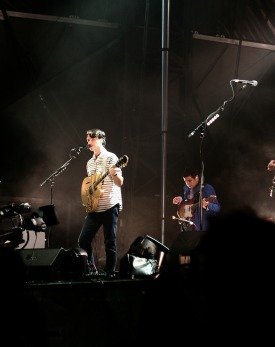 Day two saw more local indie rockers, Peak Performance Project Finalist The Matinée and Yukon Blonde who had fans jump up from their picnic blankets and onto their feet for the final song of their set, "Stairway". 
A welcome breeze cooled the crowd as Seattle rockers Band of Horses carried fans into the evening with tracks from their latest album Mirage Rock as well as fan favourites "Is There a Ghost" and "The Funeral", setting the stage for the festival finale.
Fresh on the heels of Lollapalooza, Josh Homme and Queens of the Stone Age produced a head-banging frenzy with their 2002 hit "No One Knows".
It's been a big year for Homme who battled a deep depression after a routine knee surgery nearly left him dead in 2011.
The band performed songs from Like Clockwork, their sixth album and first to reach #1 in the US, clearly proving that the Squamish Valley Music Festival is fit for a queen.