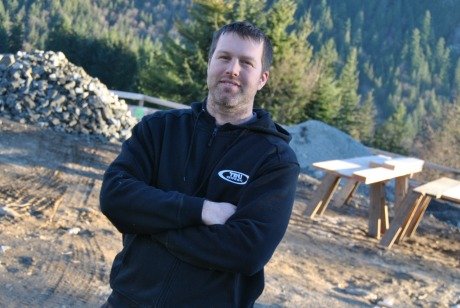 By Gagandeep Ghuman
Published: Feb. 28, 2014
What Adam Smith moved to Squamish for is finally happening, albeit in dribs and drabs.
Smith moved to Squamish four years ago to enjoy outdoor recreation and to set up a home-building business in town.
After four years of driving to Lower Mainland and Whistler for work, that dream of living and working in Squamish has finally materialized for him.
His company, Blueline Contracting, is building three homes in the new Crumpit Woods neighborhood in Valleycliffe.
"I have more work in Squamish now," he says.
With the recession and post-Olympic slump ebbing away, an activity that's considered a thermometer of B.C's economy is making a comeback in Squamish.
Construction is gaining a momentum with more housing, commercial and institutional projects. It's not a boom by any means, but it's a revival, one that might enable locals like Graham Roberge to stay and work in Squamish.
Roberge worked for Kiewit during the Olympics and later worked on the Port Mann Bridge until he decided it was time to come home.
"Leaving Squamish at 5 am and coming back at 6:30 pm is no way to raise a family," he says.
Now, he is also building a home in the Crumpit Woods subdivision in Valleycliffe.
And all around him, contractors have signs for sale out on homes that have been barely started.
With 78 new licences issued in 2013, construction is far ahead of all other businesses for new business licensing. (retail was next with 26 businesses licences.)
By the time this article was written, 11 new business licenses in construction had been issued in 2014.
Construction is also now top industry in town, according to the latest census.
As many as 1,435 people in Squamish now work in the construction industry in Squamish.
For independent contractors like Roberge, it means more competition for a high-end real estate market increasingly dependent on Vancouver.
"Tell me, where are the $100,000 jobs in Squamish," asks Roberge.
Industry to housing: Embracing the market's invisible hand?  
If industry was our past, suburbia is our present.
And for better or for worse, past councils have introduced policy changes to help this mutation.
In the last five years, consecutive councils have rezoned or re-designated over 178 acres of industrial, tourist-commercial, or other employment lands to housing or residential.
The most symbolic example of this transformation is the Waterfront Landing project, a 53-acre former mill site that was rezoned for 1500 condos.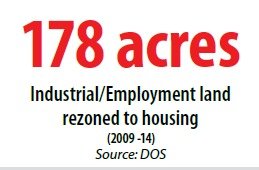 It's now a failed residential project, with a private bank owing close to $30 million from the proponents.
Narinder Nagra, who represents the bank, Sprott Resource Lending Corp, said the bank doesn't have a buyer yet.
In a brief phone interview with the Reporter, Nagra said that perhaps the best use for that land might be industrial.
Historian Eric Andersen says Waterfront Landing should have never been zoned residential.
With access by truck, rail, and water, the site can contribute more to the local economy.
Industrial lands like the Waterfront Landing is one of the sites that vapourized in the real estate euphoria of Olympics, says Coun. Ted Prior.
"We got carried away," Prior said.
"I remember at one point, we had 5000 residential units planned when we were only selling 200 homes at most."
Prior said Squamish has industrial land in the North Yards, airport, etc, but might be fall short if a big scale industrial operation were to move in.
To find out what kind of land Squamish has and where, the district is finally doing an industrial land inventory.
Squamish needs to be extremely careful to ensure it has the ability to 'land' industry and that it has connections to port, rail and highway, says Coun. Ron Sander.
"Squamish needs to be careful to ensure we protect our ability to "land" industry." Ron Sander
Squamish should do whatever it takes to attract industry, but there is nothing wrong in being a bedroom community, says developer Doug Day.
Day has seven homes under construction in his University Heights neighbourhood, and he's optimistic they will sell without too many delays.
"People are finally waking up to the fact that homes in Squamish are a bargain compared to Vancouver," he said.
Day says there is nothing wrong in being a bedroom community.
More people living in Squamish would spur need for more services, which will attract more people.
"Plus, we just spent 600 million on our highway, why not use it?"