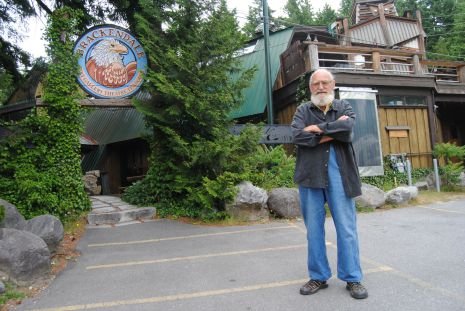 By Gagandeep Ghuman
Published: Aug 2, 2016
The Brackendale Art Gallery is more than just a commercial venue—it's where the artists and activist, the tourist and the local find common ground in the presence of its presiding deity, Thor Froslev. But now that it's for sale ($2.7 million to buy 'once in a lifetime opportunity to own one of Squamish's most iconic established business'.), its well-wishers fear it may be sold to someone who will be eager to replace the unicorn with town homes. In a piece written on Thor's 80th birthday a few years ago, Mayor Patricia Heintzman had described the uniqueness of the building as well its owner: "Thor continues to live out a whimsical narrative filled with idiosyncratic characters, gifted artists and a building reflective of itself: eclectic with an inimitable charm." 
BAG supporters feel the district should step in and buy the property and those desires have found wings in a recent letter written to the council by environmentalist Mary Mitchell, who wants the district to consider buying the property to retain its current use as an art gallery and a meeting place.  "I am writing today to encourage you to consider purchasing the Brackendale Art Gallery as a public asset for the community. As noted in the OCP planning, we need more public spaces to gather, and what better gathering place than the BAG. The BAG has been a focal point of Brackendale for years, and it is only fitting that its history is incorporated into the community," she wrote to the district.  Mitchell said a similar example could be found in Vancouver, where the city had the option to purchase a former church, which it did. "Vancouver purchased the church, which was officially called St James Community Hall, and has leased it back to the society to manage on a 30 year lease. There is a list of improvements to be done and the city will match fundraising dollar for dollar and supply manpower if available."
She said it's worth investigating to see if such a model could be used here, adding that the town's population is growing and there is a lack of public halls for gatherings, dances and community uses.  "This is a great opportunity to save a piece of modern Brackendale history and at the same time add an artistic centre to the community. It is full of possibilities," she wrote.
Carol Grolman said a group of BAG lovers have met and discussed the direction to take although the idea is in its infancy. She said, however, that making BAG a public asset would be a great way to create an arts centre, which has been a long standing demand in the community. "It would be way cheaper than building a new arts centre. It has a reputation and we have some big names play here and you have people visiting BAG from all over the Lower Mainland. I think it would be a shame to see it go," she said.
Artist Linda Bachman said she finds a lot of value in making the art gallery a public asset. "I think the district should get its act together, find partners and make it possible to make it a public asset. That would be an investment into the culture and history of Squamish," she said.  Artists Leilani Finch said art is important but less so than health care, education, roads, and other services provided by the municipality. She said such a decision to spend public money should be taken seriously and after consulting with the community. "We need to think about what is the return on such an investment and what would be the cost relative to the value that would be provided," she said. Artist Stan Matychuk said while there may be concerns about buying the BAG with public money, but it's an ideal building from an artist's perspective. "I was a board member on the SAC and one of the big challenge for a thriving community is to have a space for art. I don't know where Squamish is sitting with the budget but from an artists perspective, this would be a perfect location for having a multi-use arts centre," he said.
Mitchell, who wrote the letter, said Squamish needs to be creative to add to our public spaces and she hoped the district would consider purchasing this 'Brackendale gem'. I look forward to visiting the publicly owned "Brackendale Community Hall" in the not too distant future.