By Gagandeep Ghuman
Published: May 2, 2019
The proponents of a new Valleycliffe development want council to give them a variance on 15 parking spots.
The developer wants to rezone land behind the commercial area for a three-storey apartment building on Maple Drive.
The three-storey building will have 42 residential units and developer is seeking approval to reduce parking from 65 to 50 stalls.
The proposal has yet to come before council, and the district documents don't divulge the proponent's name.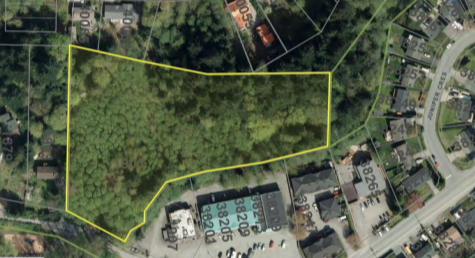 The district policy requires 53 full size parking stalls, but only 36 parking stalls are being proposed. Similarly, the district requires 11 parking spots for visitors; the development proposes only five.
While the district policies require three handicapped parking spots, only two are being proposed.
The parking variances are being requested in exchange for a park.
According to a 'summary sheet' , exterior on-site parking is not proposed because of the environmental sensitivity of the site and to 'enhance the existing park-like setting.'
Two electric powered ride share cabs along with four electric charging spots are being provided.
This is an appropriate development and will be a benefit to the neighbourhood, according to the developer.
"There are several nearby residential buildings of similar density as well as commercial developments that would benefit from this increase in density," according to the proponents.
The development is still going through an internal review. A public information meeting is expected although no date has been set.