District of Squamish council has received a rezoning application for an eight-storey market rental condo development on Tantalus Road in the Garibaldi Estates.
The mixed-use development proposal consists of two eight storey buildings that will provide over 23,000 square feet of commercial space, 19 per cent of the entire ground floor area.
As many as 166 residential units are proposed as purpose-built market rentals.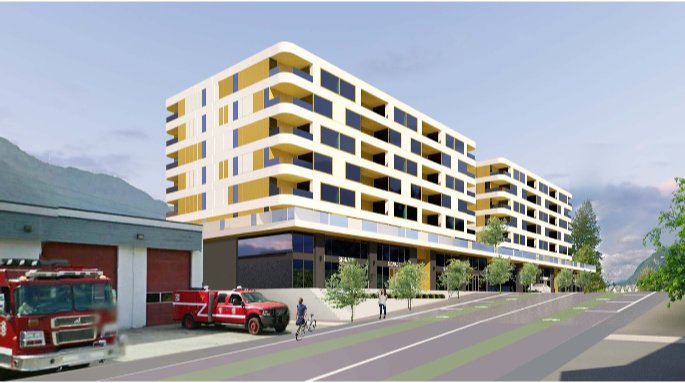 The proposed development is at 40480 Tantalus Rd, right next to the Tantalus fire hall.
The developer is proposing to rezone from Rural Residential to a Comprehensive Development Zone.
The 3.7-acre site is currently vacant.
The developer is proposing a combination of surface parking as well as a parkade, according to a staff report.
One parking space per unit is being proposed, which is the same parking requirement as downtown.
A single driveway access at the north end of the site is proposed off Tantalus Rd. Entrance to the parkade will be from the driveway which will loop around the rear of the site accessing the surface parking.
The development also proposes a wide pedestrian pathway running east-west which bisects the development and provides a connection from the Corridor Trail through the development to Tantalus Rd.
The proposal will come before the district's Advisory Design Panel committee, which will provide feedback on height, shading, etc.
More details are expected when the project comes before council.