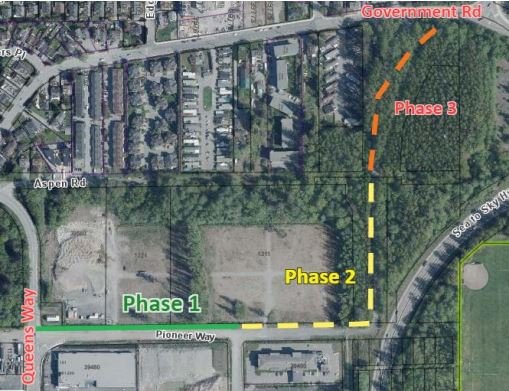 The District of Squamish is moving forward to extend Pioneer Way from Queens Way to the intersection of Government Road and Centennial Way.
Work on the first phase begins today along Pioneer Way.
District says the project will transform Pioneer Way into an arterial route and major entry into the Squamish Business Park while reducing traffic from the surrounding residential area.
It will also create a stronger link to the Discovery Trail.
Phase one continues from November to June 2021 and will see Pioneer Way from Queens Way to Discovery Way closed to all vehicle traffic.
Storm infrastructure will be installed, along with roadway lighting as well as infrastructure for future signal at Queens Way and Pioneer Way.
There will be vegetation removal and grading, and the construction of a paved multi-use pathway on the south side of Pioneer Way to Discovery Way.
Phase 2 will involve design and construction of the stretch from Discovery Way to Aspen Road, with phase 2 expected to be complete in 2022.
Phase 3 will involve design and construction of the stretch from Aspen Road to Government Road.
The start date for the third phase of the project is not known at this time
The project was identified as a priority in the District's 2031 Multi-Modal Transportation Plan.
Phase one of the project has a budget of $1.06 million and will be funded through Development Cost Charges.